Daily Prophet templates aren't available to the public, but we've managed to get our hands on one! This Daily Prophet template has been provided as a free download courtesy of your friendly neighborhood website. Click here if you want to download and edit this Daily Prophet template yourself, or go ahead and click Continue Reading below if you want to see what else the template includes!
Get your hands on the original newspaper pages
Are you a fan of the Harry Potter series? Do you want to create your own Daily Prophet? Well, now you can with our free and editable Daily Prophet template! Just download the PDF, add in your text and images, and print it out. You can even use the original Daily Prophet font to make it look just like the real thing!
Download the customizable templates here
With these easy-to-use, customizable templates you can create a Daily Prophet that looks just like the real thing! Just add your own text and images and you're ready to go. And don't forget to use the Daily Prophet font for that authentic look.
Here's what you need to know about our templates
Our Daily Prophet templates are completely free to download and edit.
You can use any font you like with our templates – we recommend the Daily Prophet font for a truly authentic look.
Our templates are compatible with all major word processing software programs.
Once you've edited and saved your template, you can print it out at home or take it to a professional printer.
How to use this template
Our Daily Prophet template is the perfect way to create your own personalized version of the wizarding world's most popular newspaper. Simply download the file, open it in Microsoft Word or another word processing program, and start adding your own text and images. You can even change the colors and font to match your Hogwarts house!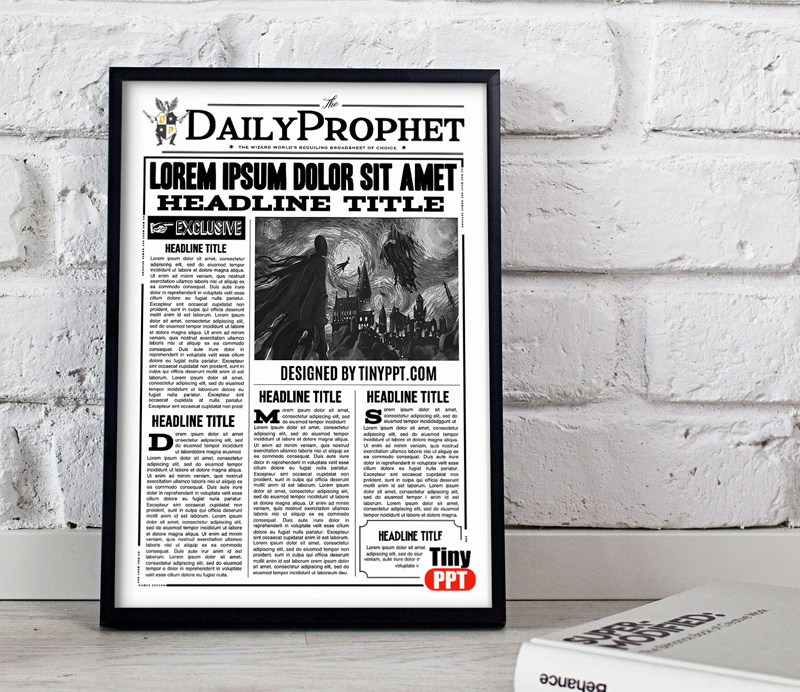 Harry Potter Daily Prophet Newspaper
Includes / Features:
Fully editable template
01 page
US Letter or A4 page size design
Requires specified fonts and MS Office software installation
Saves as PPTX file
Exports to PDF file to print
Fonts used: